| | | |
| --- | --- | --- |
| Service | Fee | Note |
| Adoption + Training | Starting at $650* | 8 Week Training |
| Boarding-in Training | $1,800 | 4-week Minimum |
| Boarding-in Training | $350 | Each additional week |
| Alumni Discounts |   |   |
| Alumni Refresher Training** | $800 | 2-week minimum |
| Alumni Refresher Training** | $350 | Each additional week |
| Alumni Refresher Class** | Free | 30 minutes increments |
| Alumni Phone or Email Consults | Free |   |
*Adoption + Training fee is $650 unless otherwise stated in the dog listing.  Age, purebred, hypo-allergenic, and papered dogs can account for increased adoption fee.
**Graduation from PTKCP Intensive Training Cycle (initial adoption with 8-week training or initial board-in 4-week training) is required for Alumni privileges.
Contact the K9 program at 719-269-4650 or DOC_k9program@state.co.us.  Office Hours are 8:00am - 2:30pm M-F.  
Supervisor, Michele Wayland at 719-429-0764 or michele.wayland@state.co.us
The Colorado Correctional Industries (CCi), Prison Trained K–9 Companion Program (PTKCP) started in 2002 as a perfect marriage of ideas – saving humans through saving dogs. This program allows incarcerated men and women to learn new skills, improve self–esteem, and earn a salary that is based on their work performance. Inmates from the PTKCP are eligible to earn vocational certification in Canine Behavior Modification that opens up opportunities for future success. 
The two primary services we offer are Boarding-In Training for privately owned dogs and trained rescue dogs for adoption. Our training includes all the basic manners you would want from your canine companion; heeling politely on leash, sit, sit–stay, down, down–stay, come when called, sitting to greet a person, sitting to go through a door, crate training, and house training.
Depending on your dog's age and capacity for learning, we can teach other tricks, once the basics are solid. We also feature confidence building with agility equipment training at some facilities.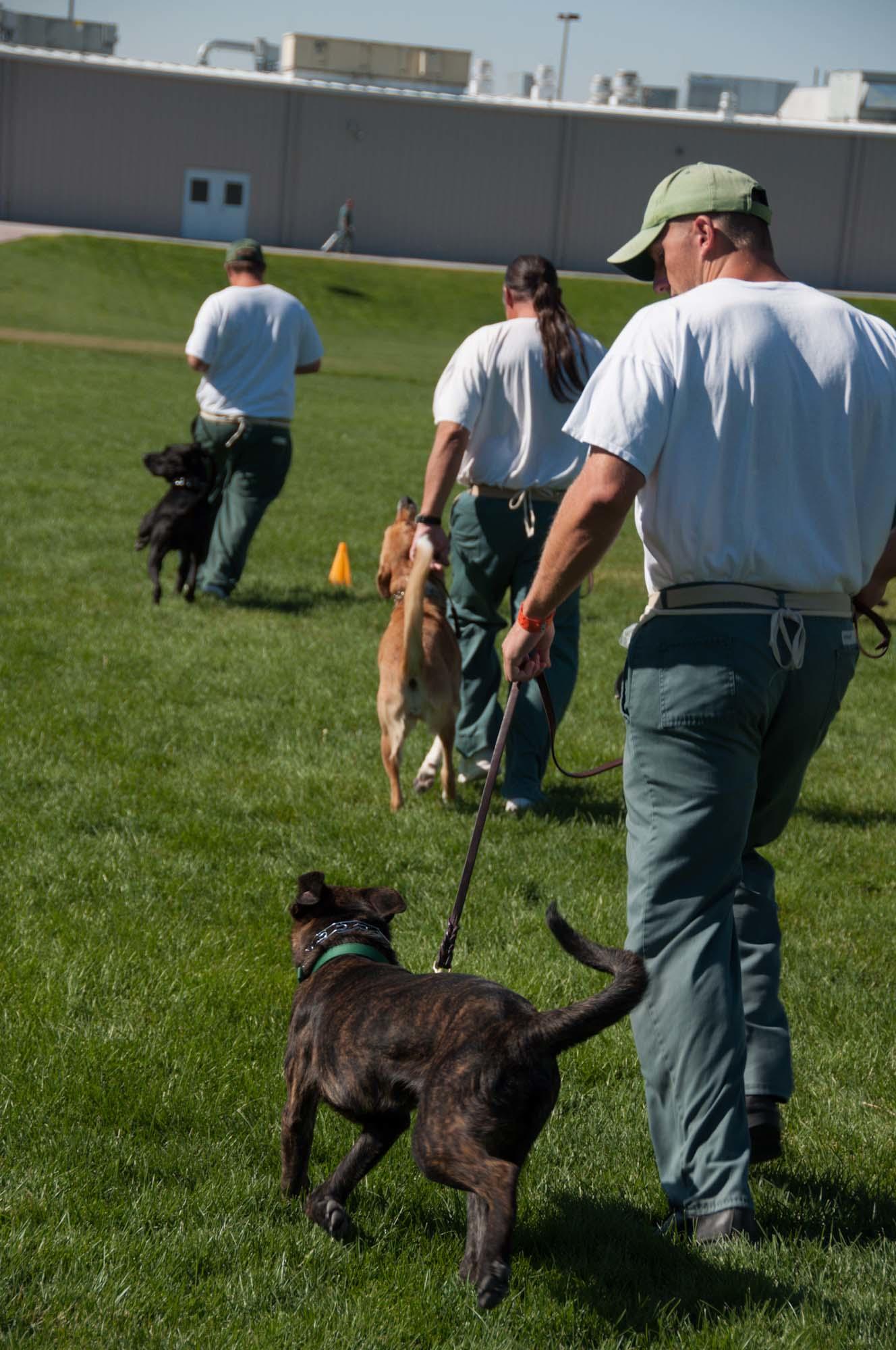 Boarding-In Training
Do you have an unruly dog? Don't give up—we can help! Our Board–In Training service is just the ticket to develop the relationship you always wanted with your dog—a respectful and loving partnership. Just send your dog "to prison!"
The initial training is a minimum four week "sentence" and we can accept puppies into training as young as 16 weeks of age. All Boarding-In dogs are required to provide proof of current vaccination status for the following:
Multiple Vaccine – Distemper, Adenovirus Type 2, Parainfluenza, Parvovirus.
Rabies Vaccine 
Bordatella Vaccine – to help prevent kennel cough. (Must be given at least 2 weeks before your dog's arrival date if it's the first time vaccination is received.) Vaccination against Canine Influenza is also highly recommended.
PLEASE NOTE: WE CANNOT ACCEPT AGGRESSIVE DOGS IN FACILITIES FOR SAFETY AND SECURITY REASONS, SO PLEASE BE ADVISED THAT WE RESERVE THE RIGHT TO REFUSE TO TRAIN YOUR DOG IF WE CANNOT SAFELY HANDLE THEM AT DROP OFF.
VERY LARGE dogs (over 100# in weight or over 36" in height) require supervisor approval due to space/crate size limitations in most facilities.
INTACT FEMALE DOGS that come into heat during training must be removed from facilities for health reasons, and interrupts the continuity and effectiveness of the training program. You will be required to pick her up and return her to finish her training when she is through with her heat cycle.
SENIOR DOGS (8 year or older) are required to have a health certificate from a licensed veterinarian stating that they are healthy enough to enter a training program.
If you are interested in having us train your dog, please answer the questions in this Google Form and K9 staff will be in touch with you when an opening becomes available. Because of high demand for our services, this may take 8 to 12 weeks so please be patient.
If your dog has already been trained by us and you are looking for an Alumni Class or Refresher Training email us 4 weeks before your requested dates at doc_k9program@state.co.us with your name, your dog's name and BI or CI number. Please note that requested dates and training location are subject to availability and not guaranteed. 
See our Fee Schedule here
Dog Adoption
Our adoptable dogs receive 8 weeks of obedience training, appropriate veterinary care including standard core (Distemper multiple), Rabies and Bordatella vaccinations, heart worm testing and preventative treatment, as well as regular de–worming. As part of our commitment to promoting responsible dog ownership, all dogs are microchipped and our program has a 100% spay/neuter policy.
Our adoption process is designed to insure the best possible match of a dog with the specific situation in the adoptive home and begins with the completion of our Adoption Application. PLEASE NOTE: An application DOES NOT guarantee the adoption of a specific dog. Our adoptable dogs are in high demand and inquiries are processed in the order they are received. Dogs adopted from our program also receive Alumni privileges and discounted Refresher Training!
See our Training Videos for some helpful tips.
See our Fee Schedule here
Accessorize your furry friend with leather dog items from our custom leather shop.