Our Leather Goods shop can make a wide variety of leather products.  Our primary product line consists of custom saddles and tack that are shipped all over the US.  In addition, we also make belts, wallets, bags, purses, brief cases, coasters, keychains, and notebook covers, to name but a few.  We have a wide variety of tooling options to choose from, including plain designs without tooling, geometric stamping (basket stamping) all the way to full floral tooling.  Whatever types of tooling design you can imagine, we can accomplish.  
Because these products ship across state lines, workers in this shop receive prevailing wage, which helps them pay off restitution, court fines, child support, and save for when they are released from prison.  These workers are true craftsmen that take pride in the quality items they produce. 
Purchase leather goods from our online store.  For more information or a custom design consultation please call:
Manager, Colin Stieb at 970-521-8551 or Colin.Stieb@state.co.us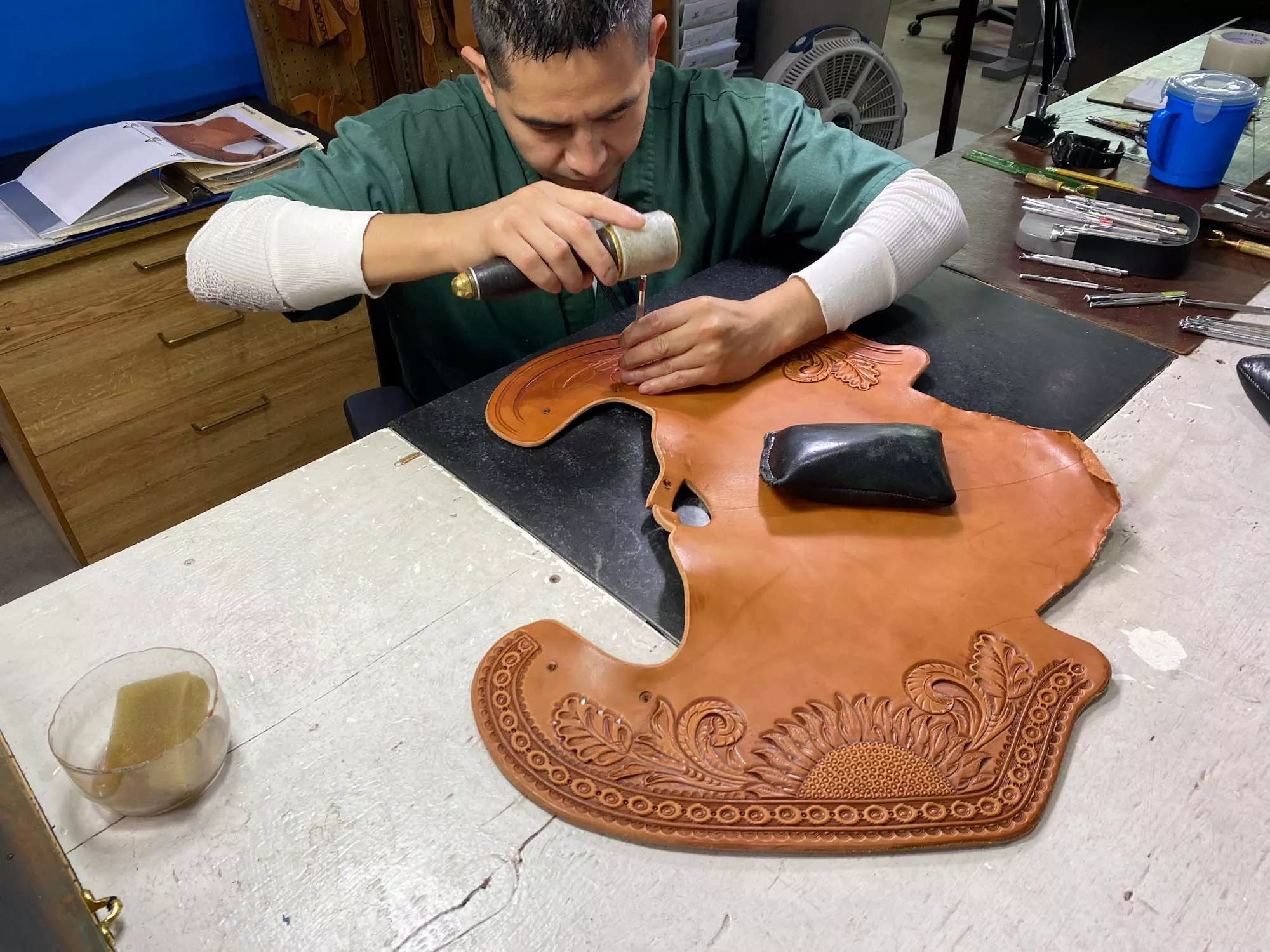 Custom Tooling Capabilities
Here is an example of a recently completed, fully floral tooled saddle, designed by incarcerated expert tooler, Jeremy Hodges, in consultation with our customer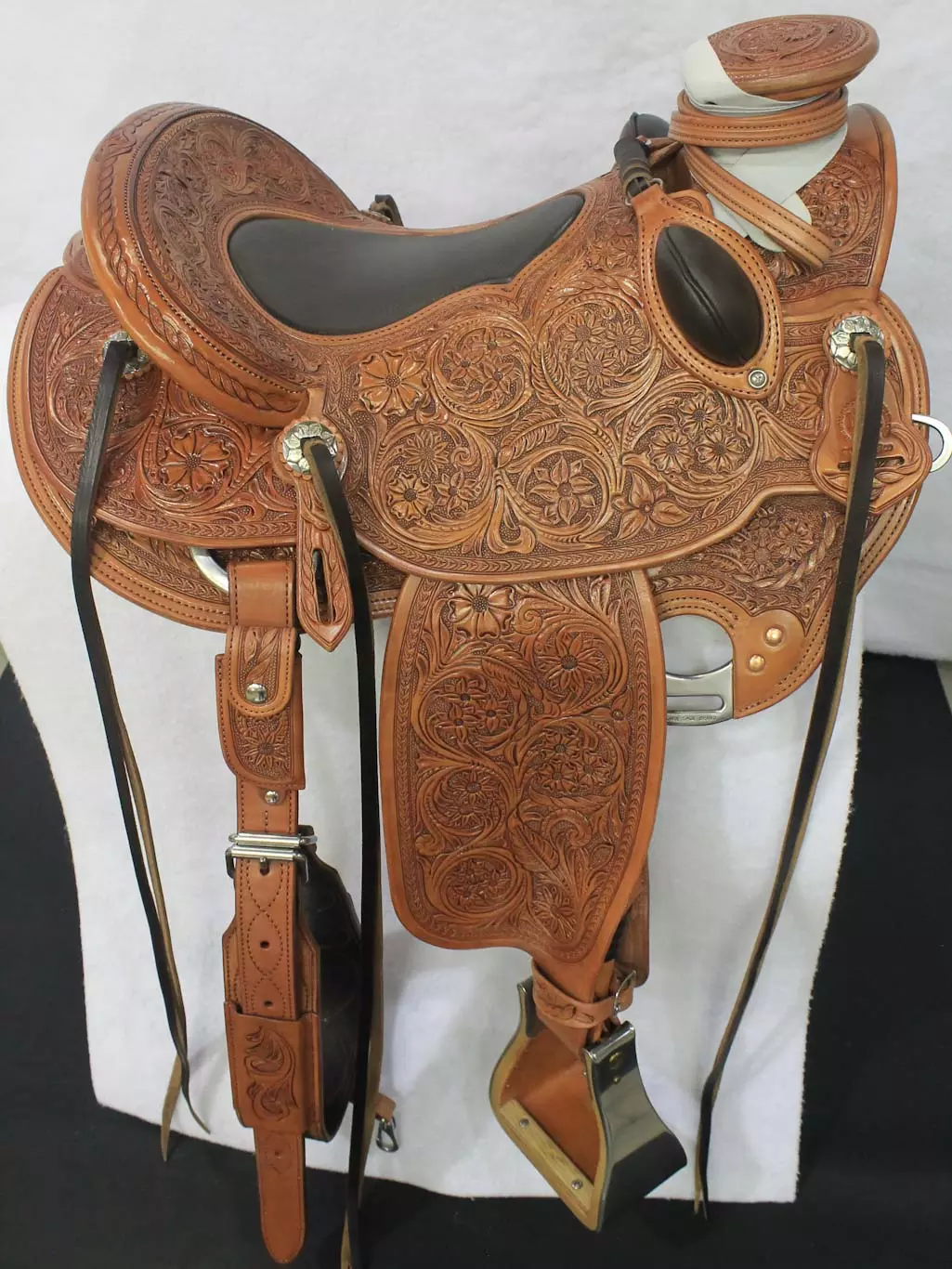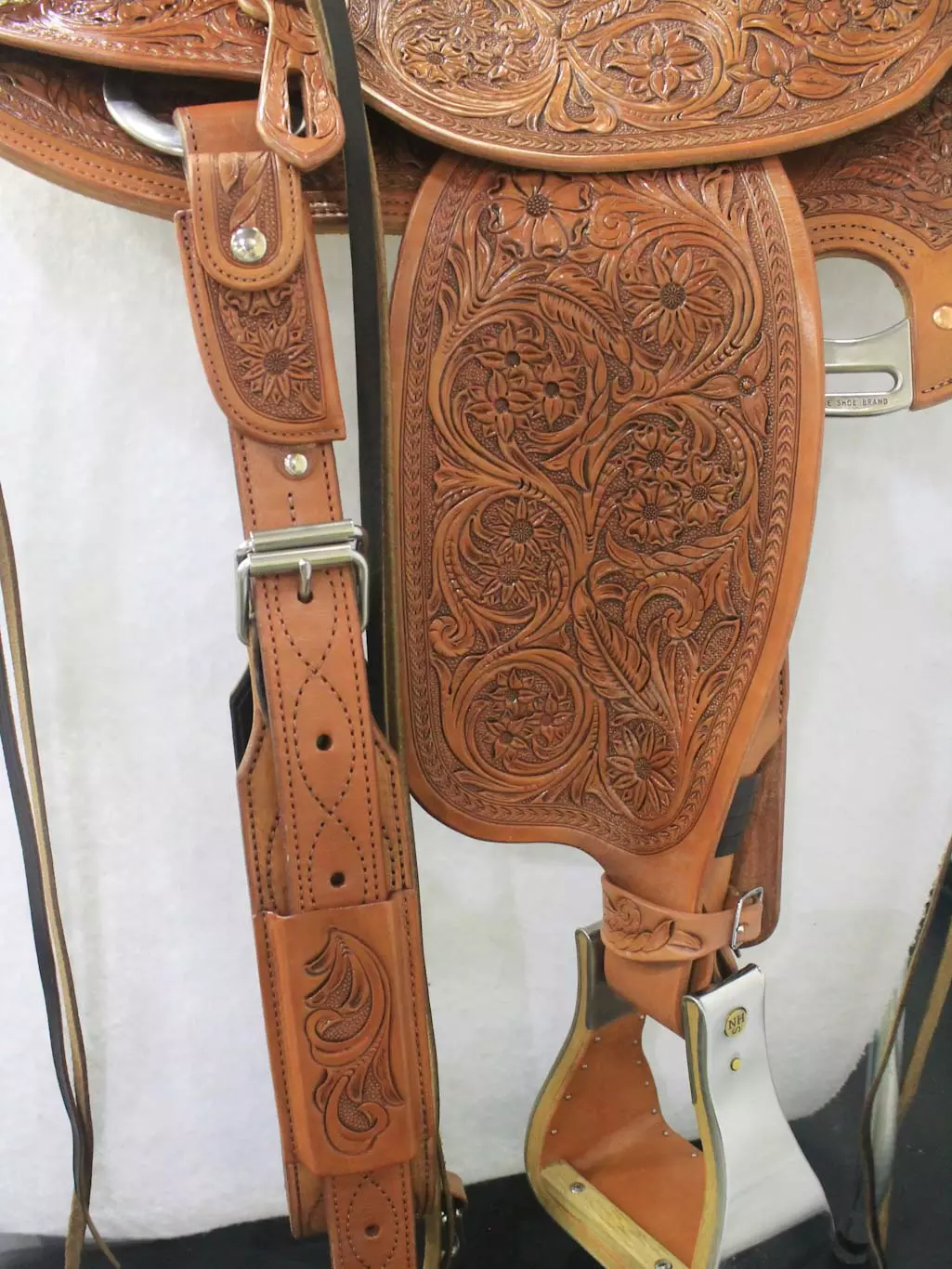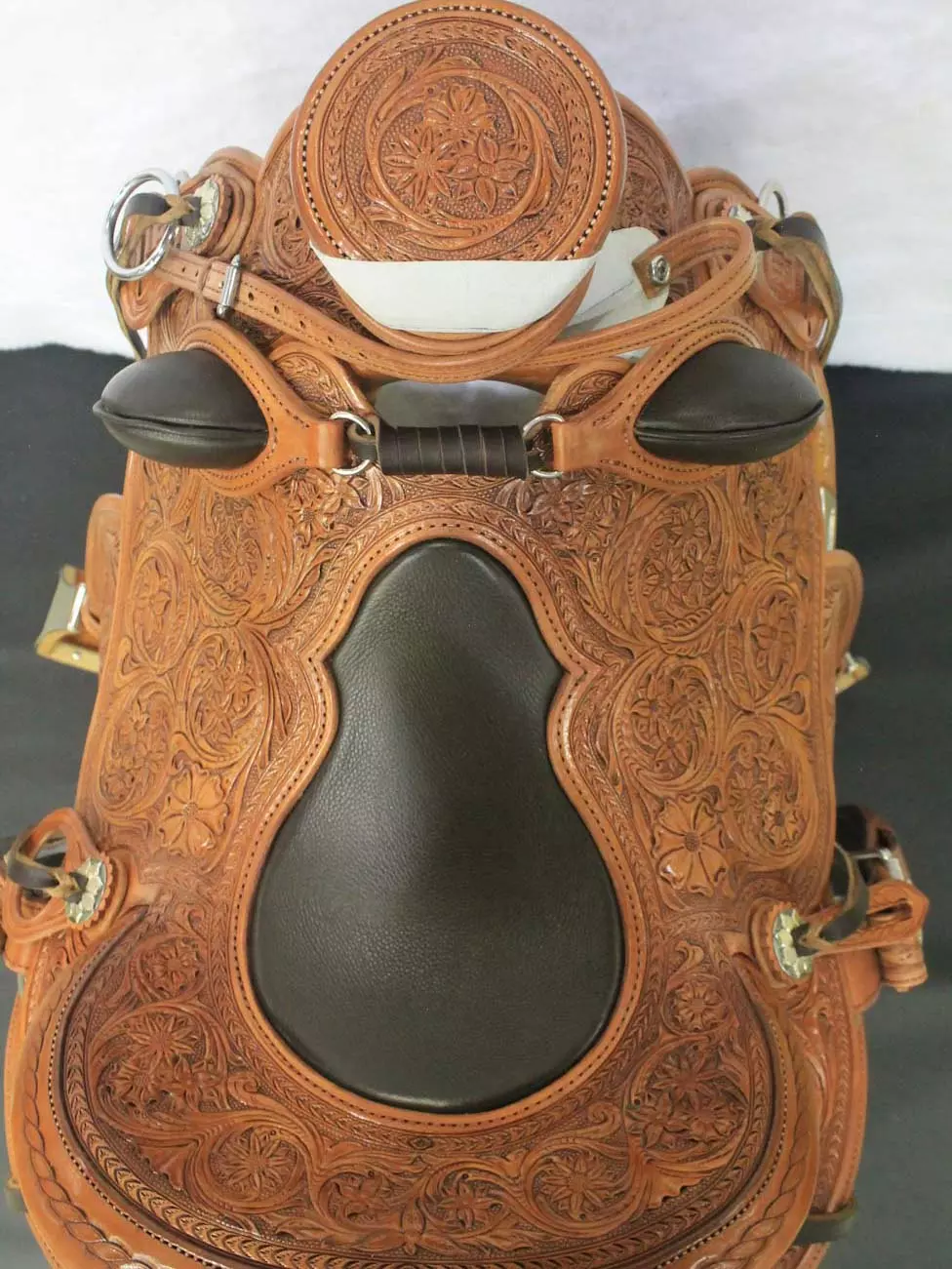 Incarcerated Craftsmen Give Back
In 2017 I began researching, looking for a Veterans Service Organization that offered equine therapy, riding, and other horse-related services to Veterans and their families. I was amazed at just how many such organizations exist across the country.  My thought was that these organizations could certainly use saddles and other tack at either no or reduced cost, to help them accomplish their missions.
Bravehearts Trail to Zero is a Veterans Service Organization that does truly amazing work. Each year since 2017, the organization has conducted rides in cities across the country to raise awareness for the epidemic of Veteran's suicide.  The rides consist of 20 Veteran riders who ride 20 miles in commemoration of the 20 Veterans (on average) that commit suicide each day. When I found out about this organization, I knew this was the type of company, and mission, that I wanted to support.  Unfortunately, for several years, I wasn't able to get the program off the ground.  Then, in 2021, the saddle shop moved to Sterling Correctional Facility and an opportunity presented itself in no small part to the new boss, Harlan Damon, who knew just the right guy to help us with this mission.*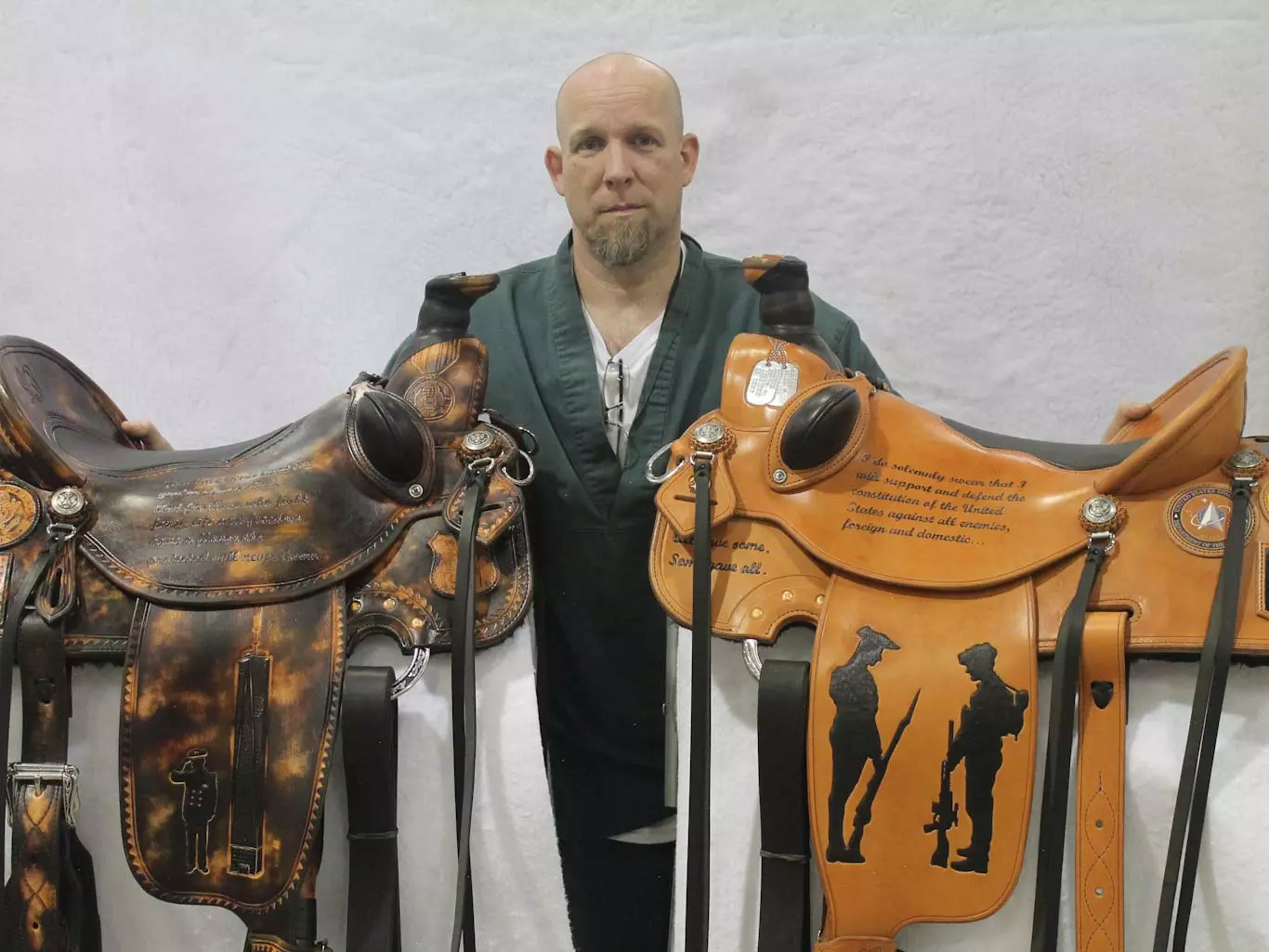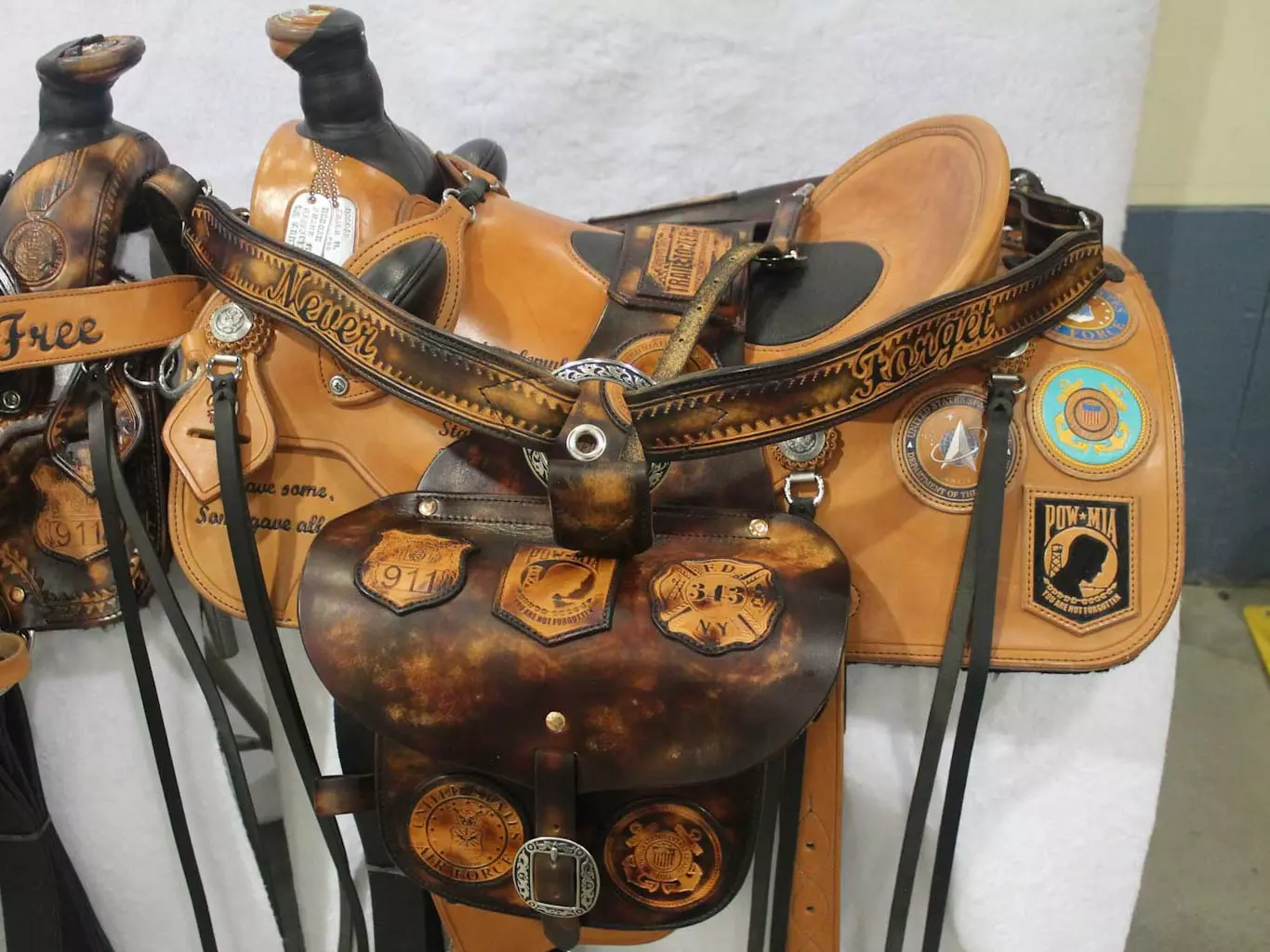 We've built 2 saddles for Bravehearts Trail to Zero so far and there are more on the way.  CI's Harlan Damon flew out to Chicago in August 2022 to present these first 2 saddles, along with some custom saddle bags, at Bravehearts 20th Anniversary event.  It was an amazing event and we here at the saddle shop are very thankful to have our work showcased in such a special way.  As a veteran of the US Army myself, I couldn't be happier than when working on saddles knowing they are going to help Veterans and Veterans Service Organizations!  It's an amazing way to give back to a very deserving community and I hope to be able to continue this program into the future with the support of Colorado Correctional Industries.
- Ryan Krueger -
* "Bud" Damon knows an anonymous donor that commissioned the design and purchase of these saddles and saddle bags to be donated to Bravehearts.  These custom saddles were designed by Ryan Krueger and his incarcerated co-workers.
From Bravehearts Trail to Zero
The lengths in which our mission has reached people always amazes us.  An incarcerated veteran read an article on Bravehearts Trail to Zero, our 20 mile ride to raise awareness and prevention for veteran suicide.  This veteran was so moved about the Trail to Zero mission and wanted to do something to give thanks to Bravehearts for all they do for veterans.  This inmate and other inmates set up zoom meetings with Meggan to spend time discussing the idea of saddles and to better understand the mission of Bravehearts and how together we can continue to heal those who have lost so much.  Their idea came to life in the Colorado Correctional Industries saddle shop where they built not one, but two beautiful custom saddles for Bravehearts.  One saddle commemorates Trail to Zero with all the branches of service evident with leathered decals around the saddle and even a beautiful custom challenge coin holder on the saddle horn.  The second saddle signifies 9/11, with pieces memorializing that tragic day which ties to Trail to Zero.  Many veterans enlisted because of 9/11 and felt called to service and Trail to Zero rides through New York City.  During our recent 20th Anniversary Celebration this past Saturday, Bravehearts unveiled both of these custom saddles to our community with the project organizers and the family members of the veteran with the vision of this project present.  The awe of the guests in attendance as they viewed these new extraordinary saddles on display all while knowing their story was beyond special and Bravehearts is deeply honored to receive this gift.